COVID Policy and Information

In addressing the rapidly changing situation with coronavirus (COVID-19), RMHA will rely on the guidance and direction of public health authorities, including CDC and HUD.
CDC is responding to an outbreak of respiratory disease caused by a novel (new) coronavirus that was first detected in China and which has now been detected in more than 100 locations internationally, including in the United States. The virus has been named "SARS-CoV-2" and the disease it causes has been named "coronavirus disease 2019" (abbreviated "COVID-19").
On January 30, 2020, the International Health Regulations Emergency Committee of the World Health Organization declared the outbreak a "public health emergency of international concern" (PHEIC). On January 31, 2020, Health and Human Services Secretary Alex M. Azar II declared a public health emergency (PHE) for the United States to aid the nation's healthcare community in responding to COVID-19. On March 11, 2020, WHO publicly characterized COVID-19 as a pandemic.
Source and Spread of the Virus
Coronaviruses are a large family of viruses that are common in people and many different species of animals, including camels, cattle, cats, and bats. Rarely, animal coronaviruses can infect people and then spread between people such as with MERS-CoV, SARS-CoV, and now with this new virus (named SARS-CoV-2).
The SARS-CoV-2 virus is a betacoronavirus, like MERS-CoV and SARS-CoV. All three of these viruses have their origins in bats. The sequences from U.S. patients are similar to the one that China initially posted, suggesting a likely single, recent emergence of this virus from an animal reservoir.
Early on, many of the patients at the epicenter of the outbreak in Wuhan, Hubei Province, China had some link to large seafood and live animal market, suggesting animal-to-person spread. Later, a growing number of patients reportedly did not have exposure to animal markets, indicating person-to-person spread. Person-to-person spread was subsequently reported outside Hubei and in countries outside China, including in the United States. Some international destinations now have apparent community spread with the virus that causes COVID-19, as do some parts of the United States. Community spread means some people have been infected and it is not known how or where they became exposed. Learn what is known about the spread of these newly emerged coronaviruses.
---
What you need to know about Coronavirus Disease 2019 (COVID-19)
Symptoms of Coronavirus Disease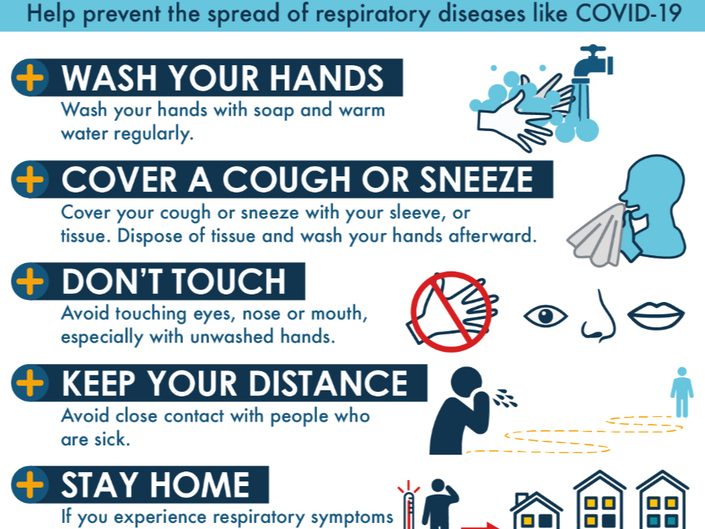 Help prevent the spread of respiratory diseases like COVID-19.
Wash Your Hands

Wash your hands with soap and warm water regularly.

Cover a Cough or Sneeze

Cover your cough or sneeze with your sleeve, or tissue. Dispose of tissue and wash your hands afterward.

Don't Touch

Avoid touching eyes, nose or mouth, especially with unwashed hands.

Keep Your Distance

Avoid close contact with people who are sick.

Stay Home

If you experience any respiratory symptoms.